How Ashley Graham Celebrates Her 30th Birthday Will Amaze You
The supermodel has designed her own swimsuits for all sizes.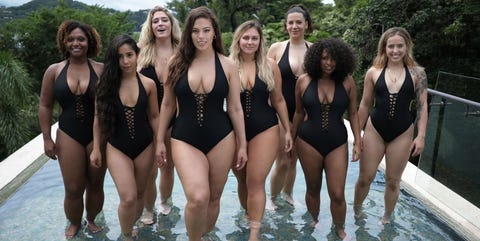 Supermodel Ashley Graham didn't take a day off for her 30th birthday. Instead she and seven of her closest friends headed to Costa Rica, where they rented a private villa, to shoot a campaign for Graham's swim line. Graham has been a crusader in the body positivity moment, her first Swimsuits for All campaign, highlighted that plus size women don't always want to hide their bodies—they can rock a string bikini with confidence. Graham's new 'Essentials' collection features a variety of bikinis and one-pieces that any woman, any size could feel good in.
Below, we asked Graham about why this collection was important to her, and life lessons for turning 30.
Why did you want to do your own swim line?
I wanted to offer a range of swimsuit styles that make all women feel confident and sexy. Some traditional brands assume girls with bigger hips, breasts and thighs want to cover up, but I know that's not the case. After my Swimsuits For All #CurvesinBikinis campaign had such a positive response from people everywhere, we knew we had to collaborate on a line to inspire women beyond body positive advertisements.
What's your go-to bikini style that you always feel good in?
A string bikini. My mantra, less is more.
---
What's your tip for taking your best bikini photo?
Rock your confidence on the outside, just as much as you're rocking that swimsuit! You have to let go of all the silly thoughts like "my cellulite is showing" and realize that everyone has insecurities. The first step to getting over them is taking off that cover up and owning it.
What makes you most excited about turning 30?
It's funny because sometimes I think, 'wait, I'm not already 30?' because I've been working since I was 15. 30 is a whole new decade that I can conquer, and if it's anything like my 20s, it's going to be epic! I love the woman I've become and look forward to inspiring women of all ages for many years to come.
Copyright 2023 ROYAL NEWS. All rights reserved. Digital material on this website, may not be published, reproduced, broadcast, rewritten or redistributed in whole or in part without prior express written permission from ROYAL NEWS.
Contact: info@royalnews.com.ng