Gov. Aregbesola Bows to OAU Student's Threat, boycott lecture
The Osun State Governor, Rauf Aregbesola, On Thursday absconded from a talk/lecture in Obafemi Awolowo University, OAU, where he was expected to speak on 'Improving Nigerians economy through diversification' following the threat by concerned students of the institution to picket him if he shows up.
The student at the early hours of Thursday converged at the Oduduwa Hall, the venue of the lecture, carrying different placards condemning the devastating state of economy in the country and the state.
One of the leader of the group, Comrade Emmanuel Emma, in a conversation correspondent said, "When Great Ife students sneeze, oppressors catch cold'.
The gallant great Ife students disgraced Governor Aregbesola. We are happy that he heeded to the warning by CONCERNED GREAT IFE STUDENTS that his presence on campus would only lead to embarrassment and ridicule. He was told in clear terms that he was not welcomed on campus. 2014 Jonathan protest is still fresh in our memories."
"We asserted our esteem power despite the heavy militarization of campus, and the presence of the SSS. The Governor showed cowardice by boycotting the event. He ran away. He was nowhere to be found. He couldn't have come.
The embarrassment in stock was perfectly planned and executed. His advisers should be paid handsomely for telling him that Great Ife is a no-go area," the student leader said.
He however commended the doggedness, resolute and tenacity of the CONCERNED GREAT IFE STUDENTS, who despite examinations and military presence (in anticipation of the Governor's visit) stood their ground to ensure oppressors of the Masses are no more celebrated.
According to the source who monitored the peaceful protest, he disclosed that the students coordinated themselves in an orderly manner. When the Chief Security Officer, CSO of the institution approached them to persuade them to sheath their sword, he was informed that the protest was meant to register the plight of the masses.
Comrade Omole Ibukun, another leader of the group in his response to the CSO said, "We are not political thugs. We are not interested in disrupting any program, but Aregbesola is not welcome."
The lecture which took place at the Oduduwa hall was attended by Professor Pat Utomi, and other dignitaries.
Recall that in 2015, the group also resisted Senator Babajide Omoworare, from visiting the institution to deliver a lecture. Senator Omoworare, was warned that his presence on campus would only lead to his embarrassment, consequently, he yielded to the warnings from students and evaded the program tactically.
Mr. Nuhu Ribadu, former EFCC boss, former President Olusegun Obasanjo, and other top politicians had also been denied access to the university.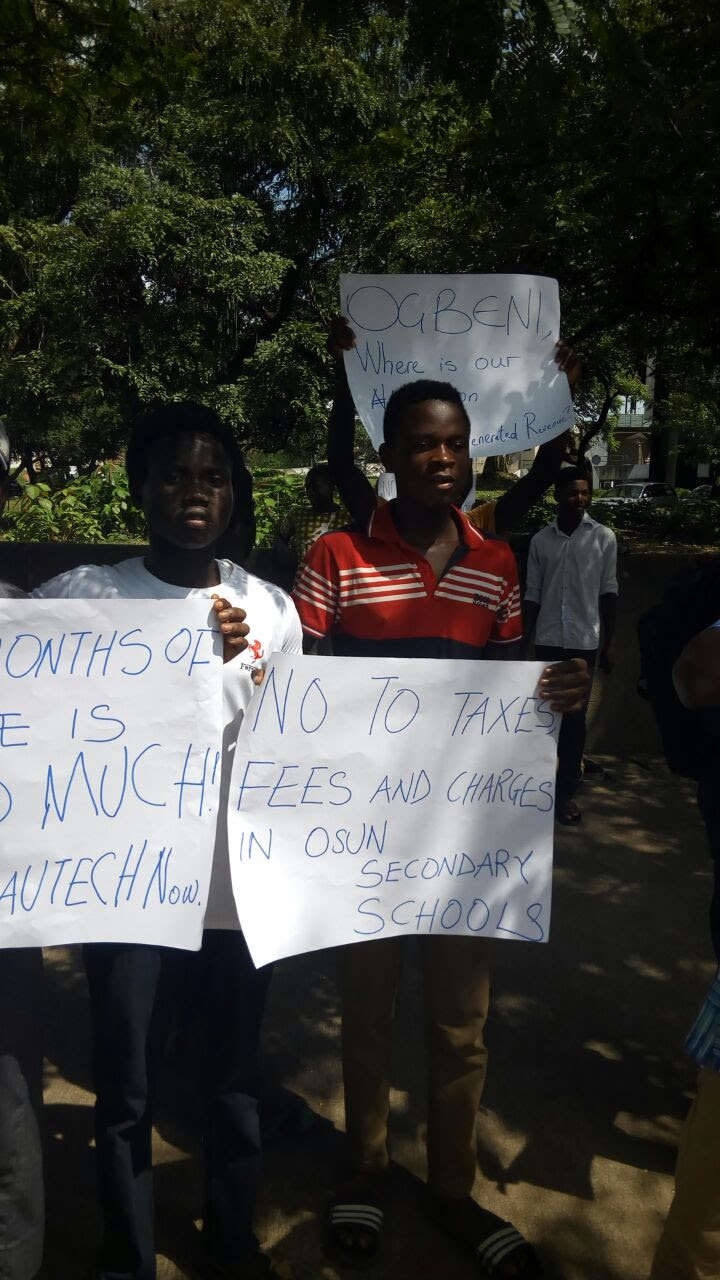 Copyright 2023 ROYAL NEWS. All rights reserved. Digital material on this website, may not be published, reproduced, broadcast, rewritten or redistributed in whole or in part without prior express written permission from ROYAL NEWS.
Contact: info@royalnews.com.ng